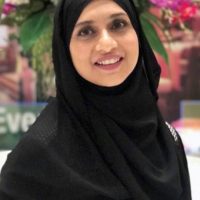 Zakkiya Patel
VICE PRESIDENT
Zakkiya is currently working as a senior speech–language pathologist at Tawam Hospital Al Ain, registered with the Health Authority of Abu Dhabi.
Previous work experience includes acute care services for dysphagia, educational speech therapy, and outpatient therapy services in South Africa.
In 2007, Zakkiya moved to the UAE and started working as an senior speech language therapist in Tawam Hospital. Main areas of interest include early intervention speech language therapy and dysphagia in pediatrics and neonates.
Zakkiya has a Master of Arts degree in early childhood intervention from the University of Pretoria in 2012, and a Bachelors of Arts degree in Speech and Language Therapy from the University of Witwatersrand, Johannesburg in 2001.