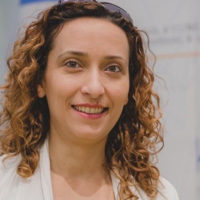 Mayssoun Jaber
CO-FOUNDER - CULTURAL COMMITTEE CHAIRPERSON
Mayssoun graduated in 2000 as a Speech and Language Therapist, working in Lebanon for almost six years before moving in 2006 to Abu Dhabi. With kidsFIRST since September 2014, Mayssoun is the Clinical Manager for Abu Dhabi Branch. She holds a license from the Department of Health (DoH) – Abu Dhabi.
Mayssoun is one of the founders of the Emirates Speech and Language Pathology Society (ESLPS), being now a board member as Chairperson Cultural Committee since establishing the society in May 2017. She is also a member of the Lebanese Association of Speech and Language Therapists and an individual member at the International Association of Logopedics and Phoniatrics (IALP).
Providing therapy in French, English and Arabic, Mayssoun has experience with early intervention, Cerebral Palsy, polyhandicap, autism, Down Syndrome, language disorders, dyslexia and feeding problems.
Mayssoun is ADOS (The Autism Diagnostic and Observation Schedule – 2) trained and HANEN Certified Trainer "Learning Language and Loving It" for early childhood educators. She is currently in the process of getting the Sensory Integration certificate. She is also trained in British Makaton sign language and is the first SLT who is a certified provider for the Listening Program in Abu Dhabi and the only inTime authorized Provider in Abu Dhabi.