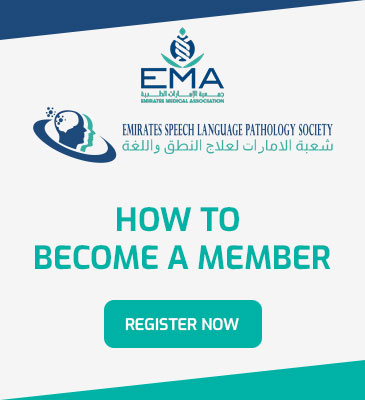 You become a member of the only official body representing SLPs in the UAE.
Emirates SLP Society is an affiliated society of IALP (International Association of Logopedics and Phoniatrics), the biggest international association of SLPs. You will get all the benefits IALP gives to its affiliated members, such as free access to Folia Phoniatrica et Logopaedica (Karger Publishers). See https://ialpasoc.info/
Emirates SLP members get special member discounts for all ESLPS conferences, workshops, and scientific events in UAE and the Region.
Members get discounts for other events organized by other organizations (e.g., the Saudi Society of Speech-Language Pathology & Audiology…)
You become a member of the Emirates Medical Association (EMA) and entitle to EMA benefits, such as reduced rates in all EMA activities.
You will be a privilege member for the latest job offers and discounts.
You can access the exclusive member page on the Society website.
You can join the special interest groups (SIGs), where each group will focus on a specific area of interest in the field of speech-language pathology, e.g., (Child Language SIG, Multilingualism SIG, Dysphagia SIG….etc). These will be open to members only.
Dear Speech and Language Pathologist,
We encourage you to join the Emirates SLP Society!
You should have DHA License, or DoH License or DHCC License or MOH License or a minimum of five years' experience with a proof of your degrees.
The registration is easy! We are happy to guide you through EMA's online membership system.
Kindly visit https://ema.ae/login.php and select Register Now.
Once you have filled the form and attached the documents, please wait for a while until the attachments are uploaded and you will get a green bar of 100%. Once done, please select "Pay Now" and you will be taken to the payment page to complete the process.
Should you require further assistance or face difficulty at any step, please do not hesitate to contact The Membership coordinator Mr. Rameez on membership@ema.ae or 042556655 and cc the society on general-secreatary@eslps.org.